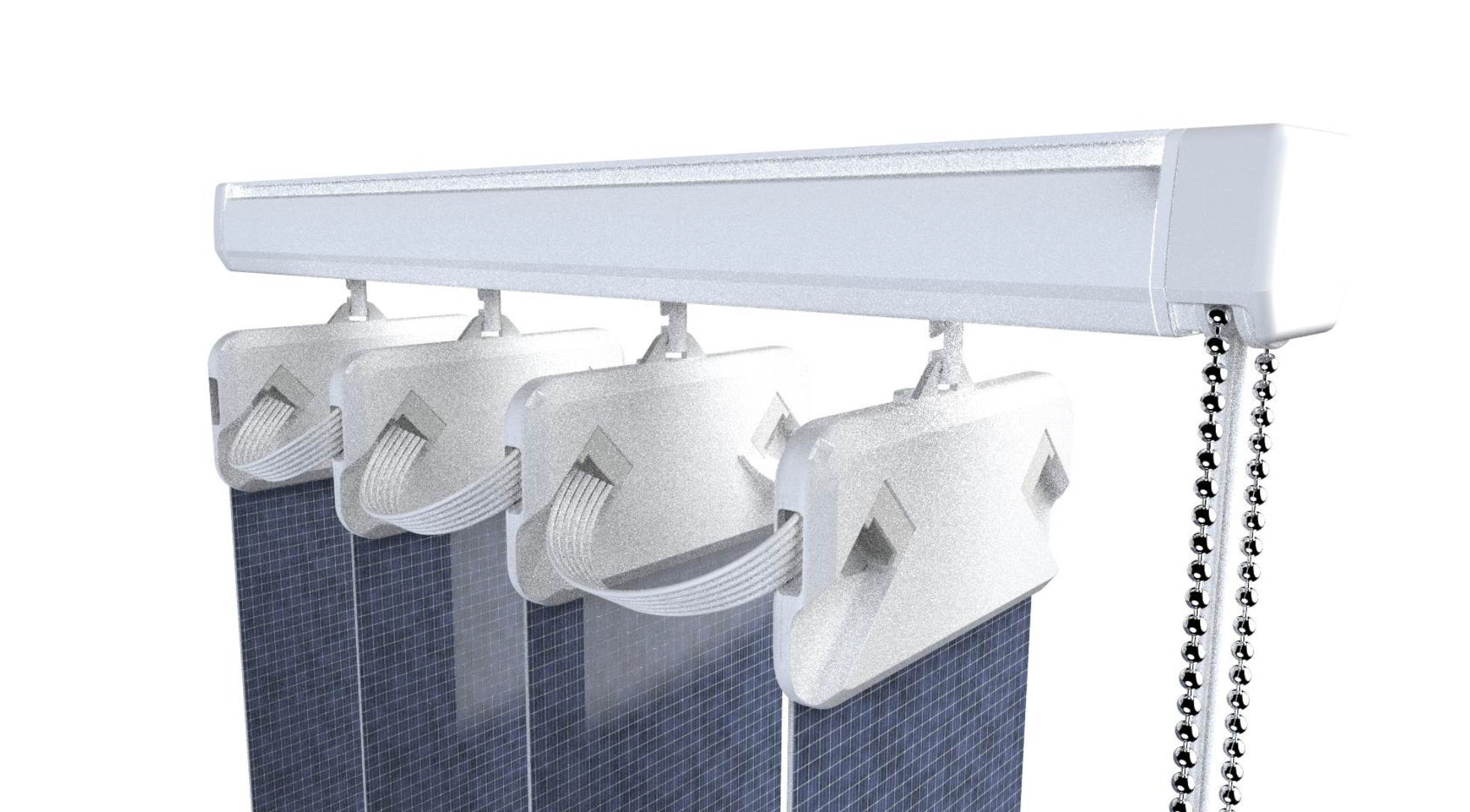 iTouch Smart Tech has employed BigSmall Design, a well-known Belfast product design company, to assist with finalising our Solarmazing Blinds.
Solarmazing is a set of blinds that shields the sun, while also drawing solar energy with photovoltaic panels. It's unique in design and concept, and iTouch has patents granted on the product in several countries. Solarmazing is a world first.
The design is in the capable hands of the BigSmall Design team, led by Stephen McGilloway.
Stephen said, "Owing to the fact that solar cell technology has moved on very quickly, we've gone from an early prototype that we designed six or seven years ago, which was made of solid solar cells held inside plastic carriers, to the design we have today, which is more akin to a soft, roll-up material. It's almost like fabric."
The vertical blinds are daisy-chained along the plastic casing at the top, where the electrical wiring is elegantly blended into the design. The electricity created by the blinds can be fed back into the building's electrical grid, or it can be stored in batteries for local use.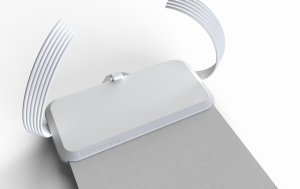 Big Small is now working on small details, like creating a hex pattern that will adorn the plastic casing for the vertical photovoltaic blind panels. The blind panels are controllable by the user, manually or through the mobile app.
"Our current prototype is 3D printed – it's the same width as a standard household vertical blind – with each pane being between  approximately 100mm wide," said Stephen.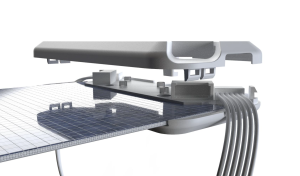 Stephen said that his design process entails the following steps:
Research & Analysis phase helps the team to understand with the client intent
Concept phase (sketching / drawing)
3d modelling in software
Prototyping / testing with 3D printing
Build up a header rail, populate it and field test it
Look at CFN colour finished materials
Technical handover and pre-production
Working with a Contract Manufacturer and moving into volume production
BigSmall has been working on the design of Solarmazing for a few months.
KianPeng Yong, CEO of iTouch, said: "There has been a recent push to have Solarmazing tested at some local hospitals in Northern Ireland, so the design process has been pushed up a bit. We're confident to have orders coming in soon."
Stephen said, "Our timeframe is that we'll finish by the end of Q2, but we'll probably go a bit beyond that – we should be finished up somewhere in Q3 with the parts and everything built, provided there are no surprises."
I asked Stephen what his thoughts were on whether Solarmazing might take off. "Yes, we do think it's a really good idea especially for high-rise buildings – places where there's a very high population density. The blinds could generate enough power to run communal services such as emergency lighting, or magnetic locks on doors, that sort of thing."
This type of energy creation, over time, could dramatically reduce the running costs of a large building, whether it's being used for offices, commercial space, or residential units.
Stephen concluded: "Once the power comes into the blinds, an inverter box will push the power either into a battery set or into the grid of the building – we can offer customers either/or. For instance, if it was installed in a hospital, they might look for battery storage for emergency systems on a trickle feed. Meanwhile, someone in a home might use that energy more readily for lighting or small electrical appliances."
How Solarmazing works
More information About BigSmall Design
BigSmall was incorporated in 2012 by Stephen McGilloway, although it had existed as a brand since 2006 inside Ulster University with his colleague Professor Justin Magee. BigSmall are an award-winning Product Design & Development firm based in Belfast, with a client base mainly across the island of Ireland, the UK and Asia. They are a small team of industrial designers and design engineers and BigSmall is a member company of the professional body the Institute of Designers in Ireland (IDI). Although they have had a wide spectrum of past clients, their focus now is across three main interest areas of Consumer Product (increasingly IoT); Health & Scientific Instruments; and Form as Function projects. Their experience sees the business interacting with other design disciplines covering aspects of brand, packaging, spatial and exhibition design.
https://itouchsmarttech.com/wp-content/uploads/2023/05/Screen-Shot-2023-05-03-at-10.46.39-AM.png
1086
1966
Emily McDaid
/wp-content/uploads/2021/12/itouch-logo.png
Emily McDaid
2023-05-03 10:57:20
2023-05-04 12:00:55
Meet the designer: Solarmazing solar-powered window blinds