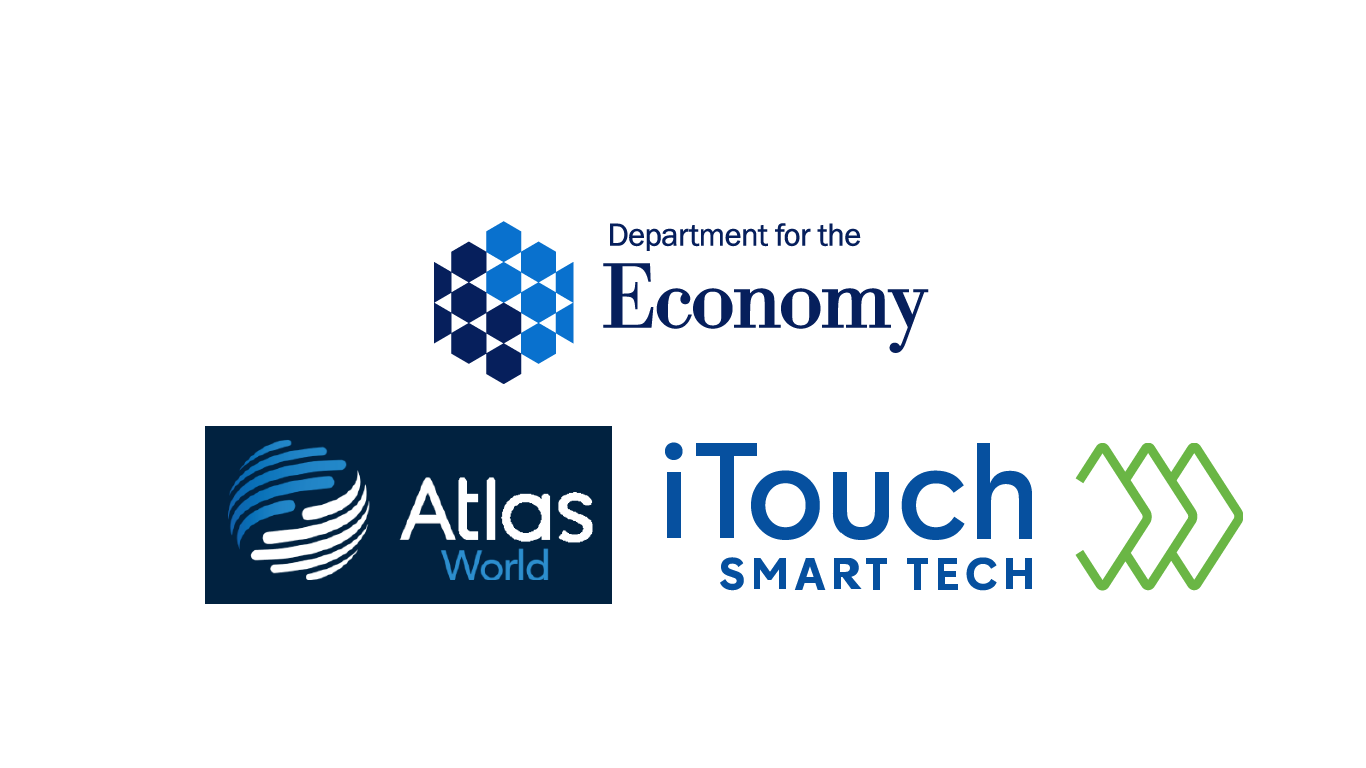 The Department for the Economy has signed a deal to revolutionise NI's public sector buildings with award-winning Energy Monitoring and Data Analytics solutions
More than 2,000 properties will be equipped with state-of-the-art Smart Building technology by iTouch and Atlas World
This technology will catapult Northern Ireland forwards in its goal to reduce energy wastage by government by 30% by 2030
8 NOVEMBER 2022 – BELFAST, NORTHERN IRELAND – iTouch Smart Technology and Atlas World have partnered in their largest customer implementation to date. This multi-million pound deal will bring groundbreaking Smart Building solutions to the majority of Northern Irish public institutions, such as healthcare trusts, councils and large government departments. The deal was signed with the Department for the Economy at the end of 2021 and the technology is being implemented now.
This deal will bring Smart Building technology to at least 20 public sector organisations across Northern Ireland. The technology monitors all energy usage in a building (water, electrical, gas, etc) and helps identify areas where energy can be reduced. iTouch Smart Technology is responsible for the design and build of the hardware, as well as the data analytics platform, while Atlas World leads sales and installations.
"This deal is hugely significant because our government can't start to understand how to reduce energy and get to Net Zero until you know how much energy you're using. Our state-of-the-art network will begin collecting data from every energy meter, enabling them to make better decisions about energy usage. This contract with DfE is our largest customer win to-date," said Kian Peng Yong, CEO of iTouch Smart Technology.
It's estimated that iTouch and Atlas World will be installing energy monitoring and data analytics solutions in at least 6,000 energy meters during this five-year-long deal.
The Energy Management Strategy and Action Plan (EMS) was published by the NI government in 2019, with an aim to decarbonize, drive downward pressure on energy costs, and provide leadership on energy efficiency. Central Government is the largest aggregated energy consumer in Northern Ireland. To achieve these ambitious goals, the government needed a strategy for smarter energy usage. The plan reported that, "To spend the same on energy in 2030 as we do today, we need to invest £370m to achieve at least a 30% reduction in energy consumption, primarily targeted towards high energy users such as Health, Infrastructure, Education, Justice and Economy. This level of investment will achieve a recurring annual saving of approximately £37m."
John Nesbitt, Chairman of Atlas World Energy, said, "This is a fruitful partnership with iTouch Energy, and our two companies rely upon each other to bring these energy monitoring solutions to private and public sector clients. With most of our customers immediately seeing a 25% immediate reduction in their energy usage, after our system is implemented, we know this can make a huge difference to Northern Ireland's overall Net Zero goals."
More on the technology
iTouch Smart Technology and Atlas World's offering begins with a mesh network. The LoRaWan-based network extends deep into buildings, with a maximum range of 10km. No energy meter or other IoT device is too far to connect. Once the is network connected, it forms the basis for all data analytics offerings.
The solution delivers real-time energy usage data that can be monitored, analysed and viewed in one central dashboard. It's designed to be the go-to place for a Facilities Manager, Asset Manager or Property Manager to check energy usage levels, to ensure there are no faults in their systems, and to ensure that their buildings are compliant with regulation.
https://itouchsmarttech.com/wp-content/uploads/2022/11/DfE-01.png
768
1366
Emily McDaid
/wp-content/uploads/2021/12/itouch-logo.png
Emily McDaid
2022-11-08 09:42:06
2022-11-22 11:44:17
iTouch and Atlas World secure major contract with DfE to provide Net Zero energy monitoring